I Found This Artist By Happenstance
I absolutely LOVE this artist's work. I was just surfing somewhat mindlessly this evening and found this piece: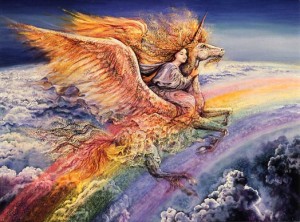 It's called "Flight of Aquarius" (and is apparently no longer available for purchase.)
So, I went looking for the name of the artist and found out it is Josephine Wall. I found her website and also a couple of Fine Art sites selling her artwork.
Her site is: Josephine Wall and there are links to the other sites from there under the "SALES" section.
I highly recomend checking out the Gallery section. There are actually more at the fine art sites than are at her site, but her gallery gives a good representation of her work. I really like a lot of them, but "Stairway To Dreams", "Flight of the Lynx", and "Mer-Angel" really stand out.
Amazing. Simply amazing talent.